Chamber Monitoring System (CMS)
The Hyperbaric Sensorbox for Multiplace Chambers also displays the parameters to the occupants
New for 2020, the CMS is a real-time continuous chamber monitoring system that allows the chamber environment to be monitored continuously throughout a treatment. The following parameters are displayed:
Pressure
Temperature
Humidity
Oxygen Level
Carbon Dioxide Level
The system also includes audible and visual alarm systems to warn the operator if the chamber environment is outside recommended parameters.
The system runs off a proprietary purpose-built software, stand-alone from any commercial platforms such as IoS, Android and or Windows, making the system inherently secure from cyberattack.
One Monitor and sensor box will be provided per chamber lock, providing both the Operator and the Occupants with comprehensive chamber environment data throughout any treatments.
The CMS can be combined with the Communications System to provide a single electronic module or as a standalone system. It is also possible to retrofit a CMS to in-service hyperbaric chambers.
The CDRS software program is supplied together with a choice of ruggedised tablet or laptop. The laptop is directly hardwired to the instrumentation through a cable. The CDRS shows real time data which can be provided in numerical or graph displaying Pressure (vertical access) and Time (horizontal axis). The software also displays the O2, CO2, Temperature and Humidity levels. The software displays timers, which can be triggered slightly below the treatment depth, allowing air-breaks to be conducted at the appropriate time.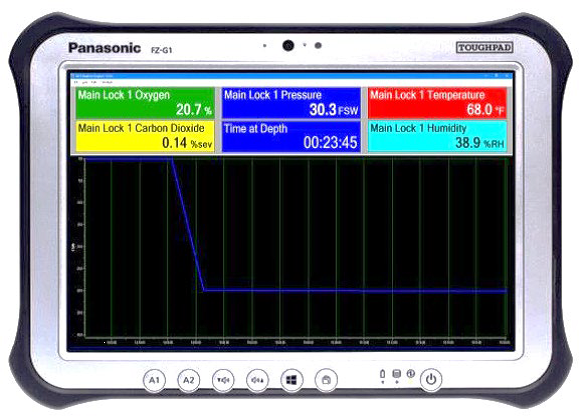 Compliant with the following Directives

2004/108/EC

Electromagnetic Compatibility Directive

EN61326-1:2013
EMC Requirements
Electrical equipment for measurement, control and laboratory use. Intended for use in an industrial electromagnetic environment.
EN61010-1:2010
Safety requirements
Electrical equipment for measurement, control and laboratory use.
Chemical Oxygen Sensor

Part number

D-05

Lifetime
~500,000 % SEV-hours,
~2.5 years @ 20.9 % SEV
Range

0 – 100 %

Accuracy

± 0.5 %

Response Time

T90 <14s
NDIR Carbon Dioxide Sensor

Range

0 – 5.00 %SEV

Accuracy

±5% of reading or ±2% of full scale

Response Time

T90 <30s

Pressure Compensation Range

-0.3 - 6 bar (-9 – 200 FSW)
Depth Sensor

Part number

-30 – 200 FSW

Lifetime

±0.75 FSW

Response Time

<10s
Temperature & Humidity Sensor

Temperature Range Range

32 – 122 °F

Temperature accuracy Range

± 0.4 °F

Humidity Range

0 – 100 %RH

Humidity Accuracy

± 1.8 %RH

Response Time

<10s
Sensor pack power supply

Supply Voltage

10 - 36 V

Maximum Current

50mA

DC Power Input
Voltage

10 – 36 V

DC Power Input
Power

5 W
Sensor Module

Alarms
Loudness

72 dB @ 1m

Maximum current

1A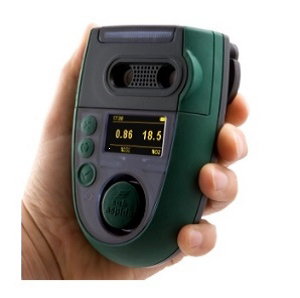 Back-Up Handheld Gas Monitors
The combined O2/CO2 Monitor provides a secondary means of monitoring the chamber gas, if the primary system is not functioning effectively. The Combined Monitor displays of the O2 and CO2 content inside the chamber, with adjustable alarms and data logging, The mode of operation is by taking an air sample, at regular intervals, from the chamber and measuring the O2 and CO2 from the outside sample line.