Hyperlite in Search & Rescue
Hyperlite chambers have been widely used by Search & Rescue Divisions of Coast Guard, Fire Departments and private organisations, saving the lives of divers operating in remote environments. Designed as an Emergency Evacuation Hyperbaric Stretcher, Hyperlite 1 System was used as early as 1991 to transport a diver from an off-shore rig in the North Sea to a hyperbaric facility in Norfolk, UK – See North Sea Exercise. Since then, the system has been used to treat divers in the military, civilian and leisure sectors who show signs of pressure-related injury in remote locations.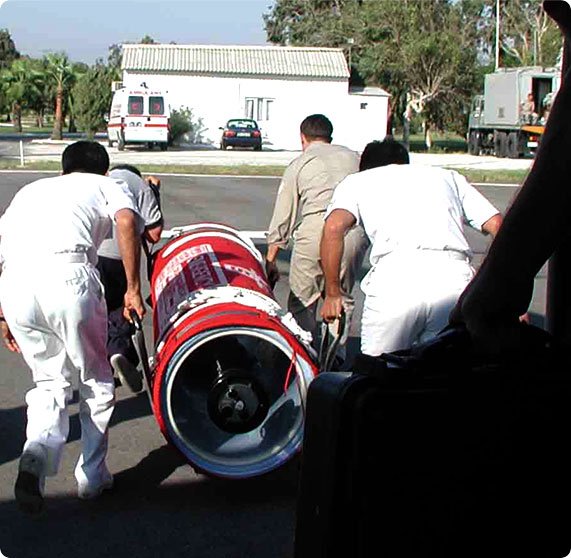 This equipment was recently pressed into action to evacuate a DCS in a civilian diver with paraplegia from South Pacific to Hawaii. It was not necessary to pressurise the aircraft to sea-level or fly under altitude restrictions, amounting to over $10,000 in estimated fuel savings while receiving oxygen treatment en-route.
Brigadier General, US Air Force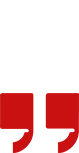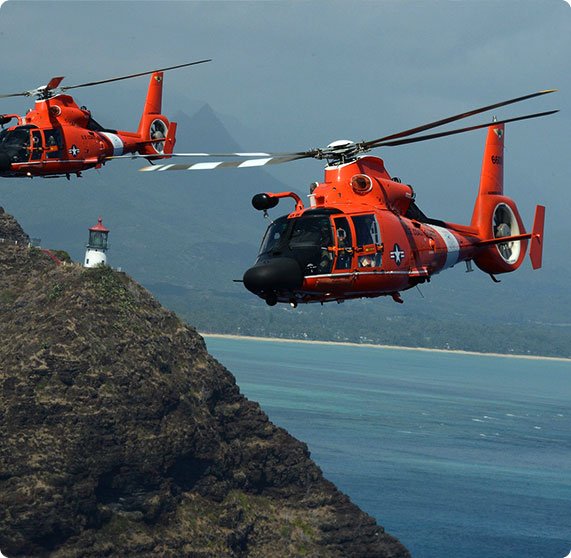 The capability to continue treatment whilst at altitude provides benefits both in patient care and from an operational perspective. For those suffering from pressure related injuries, an increase in the altitude may enhance/cause recurrence of symptoms. By placing the patient under pressure in a Hyperlite Hyperbaric Chamber, hyperbaric oxygen can be administered to improve the condition of the patient, whilst allowing the pilot to evacuate without low-altitude flying restrictions. Treatment in a Hyperlite 1 System, allows full US Navy Table 6 treatment up to an altitude of 5,300 metres (approximately 17,000 ft) in an unpressurised air cabin. By at higher altitude, the aircrafts fuel consumption is reduced and scope for flight durations or distances are extended.
Case Study: North Sea Exercise of Commercial Diver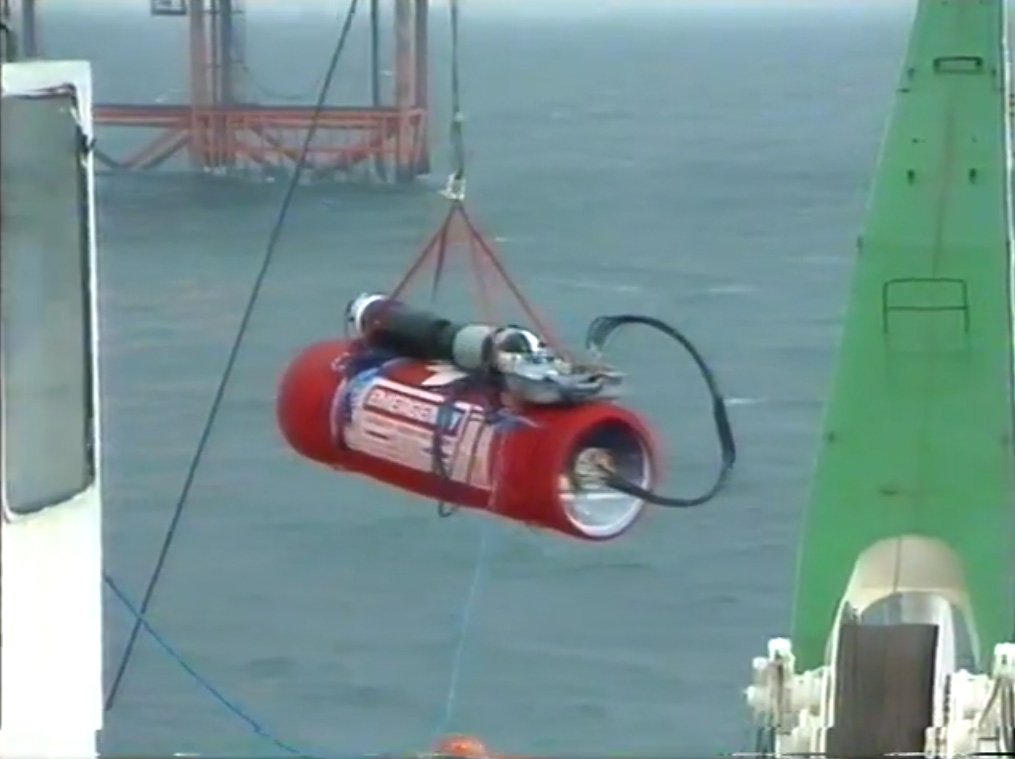 In November 1991, SOS Ltd together with Stena Offshore & Amoco conducted a live trial, demonstrating the use of the original Hyperlite 1 Hyperbaric Chamber for the transport under pressure of an injured diver from an offshore rig to an on-land hyperbaric chamber facility. Although the design of the system has been improved, it retains the same fit, form and function today. The successful trial clearly demonstrates the versatility of the Hyperlite 1 system as an Emergency Evacuation Hyperbaric Stretcher in a challenging environment. This operation was successfully conducted as if it were a real-life scenario, with the inclusion Diver Medical Officers, Physicians and Chamber Operators, allowing the diver to receive more advanced care whilst on-shore and allowing the rig to re-commence operations.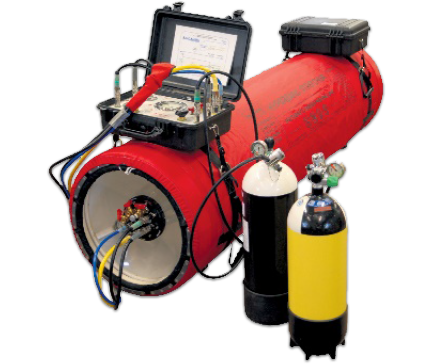 Occupants:
1
Weight:
100kg
Max Operating Pressure:
2.3 Bar(g) 3.3 ATA
Intended
Purpose:
Transfer-Under-Pressure, Emergency Evacuation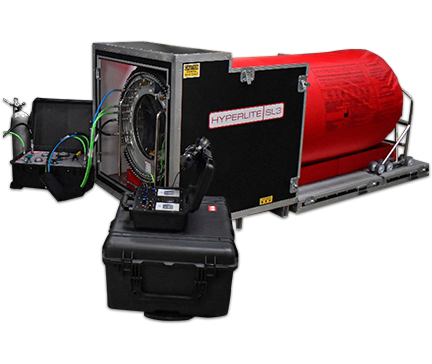 Occupants:
2
Weight:
431kg
Max Operating Pressure:
3 Bar(g) 4 ATA
Intended
Purpose:
Full Treatment onvessel/site. Designed for use in fixed location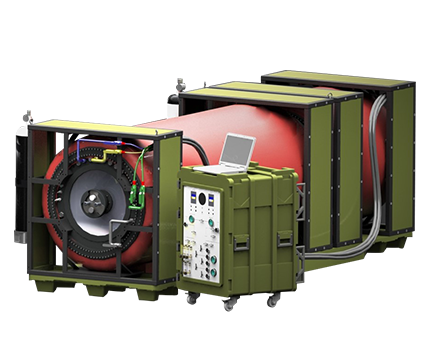 Occupants:
3-4
Weight:
>550kg
Max Operating Pressure:
5 Bar(g) 6 ATA
Intended
Purpose:
Full Treatment on site. Transportable for Multiple Scenarios
Case Study: Hyperlite saves the life of a Diver in Les Escoumins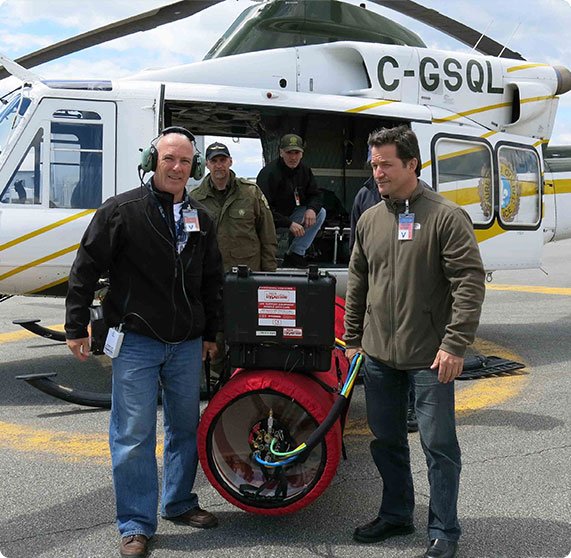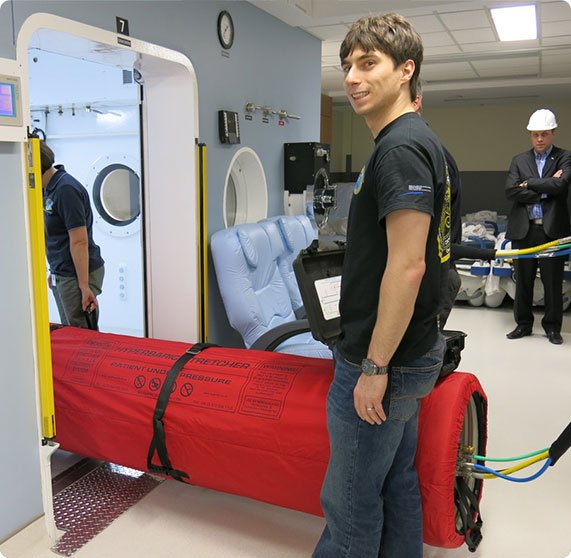 A Scuba diver who suffered decompression sickness after a rapid ascent received urgent, local treatment in a SOS Hyperlite Hyperbaric Stretcher, making a full recovery. The Hyperlite, which is stationed at the Health Centre of the Haute-Côte-Nord, Québec Province, was purchased for the rapid response to diving accidents and incidences of Carbon Monoxide Poisoning. The diver benefitted from having local treatment with the minimum of delay.
In a brief interview with the Journal de Québec, Dr Guillaume Lord, the local hyperbaric physician made the following comments:
"Sunday was the first time in Canada that we have used a portable hyperbaric chamber in a hospital. The incident followed an uncontrolled ascent from the deep. The Diver received exactly the same treatment as he would have received at the Hôtel-Dieu de Lévis Hospital in Quebec (the nearest alternative hyperbaric facility some 300km away). The portable chamber saves us time, whilst also averting the need to take the patient over high ground, which would aggravate the decompression problem further."
The Hyperlite at Les Escoumins was purchased in 2008 through fund raising activities primarily for the benefit of the diving community.
Mr. Jocelyn Boisvert, ex-Canadian Navy clearance Diver and Co-ordinator of Centre de Médecine de Plongée du Québec gave the following statement: –
"We treated a diver this weekend in the Hyperlite (TT6) for 5 hours and everything went as per the planned protocol. The diver was released without any residual symptoms. The quick response to treat the diver was a key factor in the result. Our Doctor was on the phone with the technician and was able to coordinate the treatment from his office here in Lévis Québec."
Used primarily for the treatment of pressure related injuries for military, commercial and sports diving accidents, as well as in battlefield medicine and aeromedical evacuation. the SOS Hyperlite's unique portable design makes it ideal for quick deployment and as first response medical aid.